"Let's fly together to new horizons. I know that every apparent difficulty is nothing but an invitation to unleash the power I already have. In expressing this power, I become stronger and wiser. " 
– Paramhansa Yogananda
Dear Friends,
This is a time of global challenge. Our world, both outwardly and inwardly, is undergoing a transformation through the Coronavirus outbreak.
Although it is easy to fall into fear at such a time as this, it also presents us with a golden opportunity, an opportunity not just to affirm our faith in God, but to truly live in that faith and become "stronger and wiser."
And at the same time, we need to exercise common sense, awareness, and responsibility to help mitigate the spread of the virus.
In line with the CDC's and WHO's recommendations to keep us all safe, those of us running Ananda Los Angeles have taken the stance of protecting our congregation to the best of our ability. We feel we can best serve you by offering all of our classes and services online (at least through the end of March) via our livestream channel:
Most organizations are implementing four-week breaks. Here at the four Ananda centers in Southern California (East and West LA, South Bay, Thousand Oaks), we will implement the above precautionary measures until the end of March, and will continue to evaluate when it is safe to resume in-person classes on a week-by-week basis.
All updates can be found in our newsletters, at AnandaLA.org, and our Facebook page Facebook.com/anandala.
Please know our hearts are ever open to provide ongoing support and inspiration to you. Feel free to contact us with any questions or concerns.
With Love & Blessings,
Narayan & Dharmadevi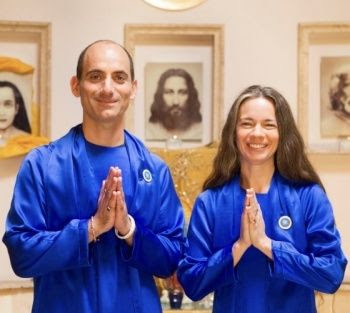 Swami Article: How to Free Yourself From Tension & Fear
From Master: How to Develop Courage